Modern decks are no longer exclusively made from traditional lumber. There are now a large variety of options to choose from depending on the look, matenience, and durability that you are looking for.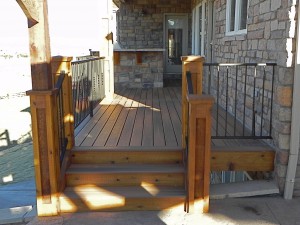 We have compiled some information on the products that we feel are the best out there and would highly recommend installing. If there are any other products you would want to use on your deck we would be happy to discuss your interests [space size=10]
[space size=3] Composites:

Composites offer a low-maintenance, high-durability solution for many of our customers decks and help in adding that high-quality look when completing any outdoor living space. Composites are also naturally a very green product as most are composed of reclaimed woods and plastics. If composite decking is the ideal material for you, we can usually find a great solution to your decking needs within the TimberTech®, Trex®, or Fiberon® product lines which all offer long-term limited warranties.

TimberTech®:

[space size=20] Craftsman Outdoor Living is registered as an Elite Contractor for TimberTech® because we believe that TimberTech® is a great choice as a low-maintenance and high-durability composite decking. TimberTech® is a composite material that offers an amazing wide range of textures and color options with UV inhibiting pigments that resist color fading. For more information on available products through TimberTech® visit their website at www.TimberTech.com. [br] [clearleft]

Trex®:

[space size=20] Trex® is one of the leading manufactures for composite materials and is another low-maintenance, high durability composite decking material. Trex® is another composite that we highly recommend and would be happy installing on any deck. For more information on available products through Trex® visit their website at www.Trex.com. [br] [clearleft]

Fiberon®:

[space size=20] Fiberon® manufactures high quality, low-maintenance composite decking, railings, and fencing products. Fiberon® Outdoor Flooring and Horizon composite decking products are not only beautiful but are backed by the industry's first 20-Year Stain and Fade Resistant Warranty. As a FiberPro™ contractor, Craftsman Outdoor Living highly recommends Fiberon® products – our most popular composite material that we install. For more information on available products through Fiberon® please visit their website at www.FiberonDecking.com. [br] [clearleft]
[space size=22] PVC:

[space size=20] PVC decking is a relatively newer, but very comparable option to composites. The difference is that PVC decking is 100% plastic and considered to be an ultra low-maintenance option when compared to the composites that are composed of a mix of wood fibers and plastic. This difference creates a product that takes away some of the downsides of composites in that PVC decking is more resistive to fading, scratching, staining, and warping. The downside to the PVC decking is that it is the option that least looks like natural wood and has a much smaller selection as far as colors and textures. [space size=5] Most composite manufactures are now carrying PVC options such as Trex Escapes®, TimberTech XLM®, and Fiberon Outdoor Flooring™. [space size=5]
Azek® manufactures exclusively PVC materials and offers a limited lifetime warranty.
| | |
| --- | --- |
| [space size=22] Exotic Hardwoods: | [space size=20] Exotic hardwoods offer a beauty that is unmatched by any other decking choice. They include such lumber species as ipe, mahogany, cambara, tiger wood, and many others with an incredible variety of colors and textures. [space size=5] Exotic hardwoods also offer a much greater hardness than traditional woods which leads to greater durability, better maintenance, and less splintering. [space size=5] At Craftsman Outdoor Living we only buy these hardwoods from green-conscientious distributers, meaning that the woods come only from selective and self-sustaining forests. Your new deck will be a breathtaking and alluring space when finished with an exotic hardwood such as the above pictured deck from www.Tigerdeck.com. |