Like building a custom home, a custom-built deck needs to take into consideration more than just size and materials.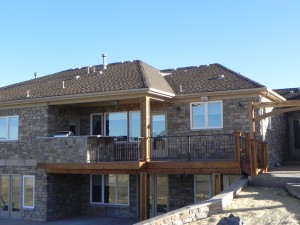 Through the design process we will help you consider your surroundings and environment, the architecture of your home and layout of your backyard, how you intend to use your deck, and lastly the types of materials and level of maintenance.
Surroundings and Environment:
Your surroundings should dictate the initial feel that the deck should have. Location, environment, and views should all be considered. Designing a deck for an urban home in downtown Denver should be vastly different than a home in the mountains of Conifer.
Home Architecture and Backyard Spaces:
A home from the early 1900's compared to a modern home will have vastly different aspects and materials that the design of the deck should compliment and not distract from. Not just the look, but the layout of the home is also important to consider such as locations of doors, bump-outs, or unique architectural features that should be highlighted. In that same sense – the layout of the backyard itself such as locations of sidewalks, gates, and landscaping also will play an important role.
Use of Space:
Your intended use of the deck will also create many considerations. Correct and intentional designs for gathering, lounging, and dining spaces can can increase the functionality of your deck.  If you create purpose in the design you can add to the beauty and inviting nature while circumventing unusable spaces in the finished product.